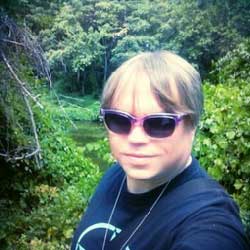 by Bob Hickman
www.robert-hickman.com
TODAY'S OVERVIEW:
Our moon is still in Gemini today, offering success in friendships and partnerships. Try to accomplish your business endeavors and communications today before 3:00 PM as our Gemini moon goes "void of course." "Void of Course" is a sort of temporary delay in the moon moving into the next zodiac sign. During this time period it is best to avoid making any plans or taking on important activities as they will often meet with delay or frustration.
Aries (March 21-April 19)
Aries, Gemini air energies are still stimulating you today. An excellent day to take on projects that have been delayed, as the air energy of Gemini will bring swift resolution. Try to personally speak to the people you are dealing with rather than using intermediaries. An good day to also focus on family unity. Wear blue today to assist with your communications.
Taurus (April 20-May 20)
Taurus, you are already sensing the shift of energy coming with the Cancer moon arriving tomorrow. This is an good day for anticipation, planning, and preparing for business goals as well as social events. Your psychic senses are heightened and you are in-tune with the Cosmos! Wear silver jewelry today to help you focus.
Gemini (May 21-June 20)
Gemini, as the power of your moon is heading into "void of course" mode, take time today to review your on-going projects and finalize any outstanding plans before the afternoon. From 3:00 PM on-ward today give yourself a much needed rest. It would be a good day to go to the movies. Wear brown today to have focus and grounding.
Cancer (June 21-July22)
Cancer, as the Gemini moon energy winds down, you are sensing the shift of the Cosmos. Your psychic senses are a prime focus for you today. Let yourself look within and hear the voices of the Spirit World. You may be inspired to explore your artistic side today, particularly in the forms of painting and sculpture. Indulge yourself in your inspirations. Wear gold jewelry today to be attuned to your psychic self.
Leo (July 23-August 22)
Leo, the Spirit World is speaking to you today. Make sure that you listen closely and heed the advice from the Other Side. You will find that the approaching Cancer moon is helping you to find balance between the "inner you" and the "outer you." Know that the balance you seek is available now for you and move forward with confidence.
Virgo (August 23-September 22)
Virgo, let yourself slow-down and regroup today. You've been spending energy on many levels recently, and today is the day for quiet and solitude. Let yourself be inspired by poetry, art, and film today. A trip to the local shopping mall is also in harmony with your higher self. Have fun and relax. Wear white today to attune to your Higher Self.
Libra (September 23-October 22)
Libra, today people all around you are feeling especially emotional and sensitive. You will find that you serve as counsellor to many today. Keep you normal Libra balance and you will find that you are able to help others through their trials without being drained. This evening give yourself time to indulge in a favorite past-time or hobby. Creative writing is also a focus today for you.
Scorpio (October 23-November 21)
Scorpio, let yourself continue to be guided by your Higher Self today. The first half of the day shows success in business as well as relationship issues. As our Gemini moon goes void of course this afternoon, make sure to give yourself a break. Ground your energies today with some form of physical activity such as Yoga, or a good brisk walk. Wear red today to attune to the energy around you.
Sagittarius (November 22-December 21)
Sagittarius, you may be feeling like the balance you've been seeking is now here. Enjoy this day of feeling focused and clear in your thoughts and visions for the future. An excellent day for focusing on reconnecting with old friends. This evening treat yourself to a delicious meal, and allow your self a dessert to celebrate your recent achievements. Wear sky blue today to feel connected.
Capricorn (December 22-January 19)
Capricorn, You may be feeling the approaching Cancer moon energies today. This will tend to make you feel like having extra down time. Make your quiet time today productive by journaling, sketching, and giving in to flights of fancy and fantasy. This time of dreaming will bring
valuable inspirations that will serve you, particularly in the work area, in the coming weeks. Wear black today to tap into your artistic side.
Aquarius (January 20-February 18)
Aquarius, with the coming "void of course" energies in the Gemini moon, you may feel like your inspirations are temporarily on-hold today. Don't panic, you are not losing any creative powers. It is a time for you to focus on more mundane tasks today, shopping, laundry, housework. You will find that these routine activities will make you feel focused and grounded today.
Pisces (February 19-March 20)
Pisces, between this stimulating Gemini energy, and the coming Cancer moon, you are in dreamer mode today. An excellent day for focusing on your inner voice and vision. You will sense spirits today, and others will be drawn to your mystical nature. Let your inner gypsy surface today. Give in to your psychic senses and bless those around you with inspiration form the Other Side. Wear shades of sea green today to attune with the water energies around you.
About Psychic Bob Hickman
Psychic Bob Hickman is long-time practicing professional psychic and a well-known media personality. Over the past 20 years he has been featured in print media, as well as done appearances on various radio and television shows around the country.
He is a published author of several books on the paranormal, as well as a YouTube celebrity with over 10,000 views each month. You can see Psychic Bob's weekly psychic-themed videos at his YouTubeChannel at
SpiritChannel
.
If you would like to schedule Psychic Bob as a guest for your radio or TV show, please contact him at his office at
571-483-2112
.
Your can also visit him at his official website:
www.robert-hickman.com