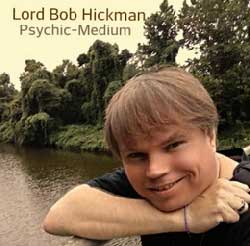 by Bob Hickman
www.robert-hickman.com
TODAY'S OVERVIEW:
This morning the moon moved into the mystical sign of Cancer. A cancer moon promotes psychic awareness and emotional connections between people. You may feel a bit reclusive today as "stay at home" energies are often time experienced during a Cancer moon. Focus on one-on-one connections today rather than large group events.
Aries (March 21-April 19)
Aries, this Cancer moon has you feeling focused on your emotional self today. Take time to stop and check your feelings about various situations in your life. Let the heart rule over the head today and trust your inner senses. Pay attention to your dreams today as they may well be psychic messages from the Spirit World. Wear the color pink today.
Taurus (April 20-May 20)
Taurus, you are feeling emotional rapport with close friends today. Take some time to invite a small gathering over for tea and sandwiches. You will discover that you have real support as you move forward with life changes in the coming month. Listen to the advice of a close friend, particularly regarding a budding romantic relationship. Wear green today.
Gemini (May 21-June 20)
Gemini, the power of the Cancer moon has you tuning in to your softer, gentler emotional side. You may be worried about becoming too much of a "softie" today. Push aside those worries and use your heightened sensitivity to bond with family and friends who may have been a bit on the periphery of your life. As an excellent communicator, this is a good day for you to also write letters and settle outstanding business issues.
Cancer (June 21-July22)
Cancer, as the moon is in your sign, this is your power day! Trust your sense of timing, particularly in matters pertaining to relationship issues. You may feel inspired to begin a redecorating project in your home, go ahead and start on that. Let yourself follow your heart today as it's lead is in tune with your Higher Self.
Leo (July 23-August 22)
Leo, today you will find that your greatest strength is in your ability to bring healing to those around you. Your energy is attuned to the stars, and you sense what needs to be done, particularly to help those around you. Let yourself have fun today as you will accomplish more with less effort than usual. Treat yourself to a piece of gold jewelry today.
Virgo (August 23-September 22)
Virgo, you will find that focusing on getting your house in order today will bring you peace and balance. Your Virgo love for order and organization seem to be a focus for today, but keep it focused on the home. Your work environment may prove challenging today, so give yourself some space to reflect on changes that need to be made there. Wear silver jewelry today to attune to your spirit.
Libra (September 23-October 22)
Libra, you are a domestic god/goddess today. In the home everyone is under your direction, and your Libra skills in communication has everyone feeling focused and in harmony. Put some focus today on bringing new life to any business endeavors that you have let sit on the shelf. An excellent day for creative pursuits, particularly marketing and graphic design. Wear the color yellow today.
Scorpio (October 23-November 21)
Scorpio, as the Cancer moon reigns in the heavens, you are feeling reflective and emotional today. Let yourself dream and "feel" your heart's message to you. As the evening approaches make efforts to arrange meetings with old friends with whom you want to reconnect. Take time to journal and capture your thoughts.
Sagittarius (November 22-December 21)
Sagittarius, today is a day for you to focus on balance and retreat. The world around you may seem a bit hectic today. Don't panic, simply recognize how you are feeling and let yourself escape when you feel the need for some down time. This evening focus on exploring new adventures in cooking and working with herbs. Wear the color brown today.
Capricorn (December 22-January 19)
Capricorn, today you will still be feeling the effects of the Cancer moon. This is an excellent day for anything that honors your inner dreamer and artist. Let your exploration of the arts be a focus for today. A trip to a local art gallery or museum will help you to regain focus for the coming days. Watch for communications to arrive connected to a possible future business venture. Wear white today.
Aquarius (January 20-February 18)
Aquarius, you are feeling in tune with your psychic senses today. Pay attention to the Zodiac energies around you. You can see the workings of star magic in the outer world, as well as on the inner planes today. An excellent day to make plans for future business endeavors. Let the communicator in you have free reign today to share your message with those around you. Wear black to attune to the Cosmos!
Pisces (February 19-March 20)
Pisces, like your Aquarian brethren, you are in your psychic self today and can really feel the movement of the stars and clearly see how they are impacting the world around you today. Be open to working as an advisor to the broken hearted today. You will find that people are coming to you bearing their souls struggles. Your natural compassion will be healing balm to them. Wear shades of purple today to help with your channeling.
About Psychic Bob Hickman
Psychic Bob Hickman is long-time practicing professional psychic and a well-known media personality. Over the past 20 years he has been featured in print media, as well as done appearances on various radio and television shows around the country.
He is a published author of several books on the paranormal, as well as a YouTube celebrity with over 10,000 views each month. You can see Psychic Bob's weekly psychic-themed videos at his YouTubeChannel at
SpiritChannel
.
If you would like to schedule Psychic Bob as a guest for your radio or TV show, please contact him at his office at
571-483-2112
.
Your can also visit him at his official website:
www.robert-hickman.com