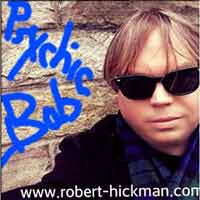 Psychic Bob's Horoscopes -Wednesday, April 6th, 2016
by Bob Hickman
www.robert-hickman.com
TODAY'S OVERVIEW:
Today the Moon entered Aries at 2:46 AM. With the Moon in Aries, you will feel and new sense of enthusiasm and energy for living in joy Projects that have been delayed will more easily move forward now. Focus on inspirations that come to you today!
Aries (March 21-April 19)
Aries, today is your power day. With the Moon in your sign, you will be feeling confident and excited about life. Dream big today, and work to achieve your goals. Success is yours! Tonight celebrate the day's successes with loved ones. Psychic powers are also a focus for today!
Taurus (April 20-May 20)
Taurus, you will be feeling especially energized today. Don't rush through your projects, take your time and know that your success is tied to your ability to act with poise and grace today. Listen carefully to conversations around you as many people are sharing valuable ideas that will help you achieve success in the coming days. Focus also on long-term investments today.
Gemini (May 21-June 20)
Gemini, listen to your inner voice today. The Spirit World is speaking to you and giving you much guidance and inspiration now. Focus on creative writing today. Travel that allows you to explore the inner you is highlighted for today.
Cancer (June 21-July22)
Cancer, today is a day for artistic inspiration. Indulge your creative self today buy exploring the visual arts in its many facets, be it painting, sculpture, or photography. Listen to your inner Muse, for it is giving your visions that will not only inspire you, but be a blessing to those around you. Give yourself quiet time today to hear that inner voice.
Leo (July 23-August 22)
Leo, today you are feeling super-energized. A good day to tackle complex tasks that you have been putting off. You will be surprised at the ease with which you move through the day and see accomplishments. This evening focus on long-term career goals. Resume writing is highlighted.
Virgo (August 23-September 22)
Virgo, you are in super-psychic mode today. Pay attention to the visions that come to you today. You may be surprised that your dreams are prophetic at this time. Take time to journal and further explore your inner voice. Explore the possibility of taking a psychic development class.
Libra (September 23-October 22)
Libra, you are in the mood to retreat from the world today. Allow yourself time to indulge in some rest and relaxation. Today is a good day for writing letters to friends and remembering the blessings they bring to your life. Focus on reading and collecting antique books.
Scorpio (October 23-November 21)
Scorpio, with the Aries moon, you are feeling excited about future plans and goals. Today focus on brainstorming and committing your thoughts to paper so that you have a record of your plans. Be open to travel opportunities that may present themselves today. Remember to turn to your Higher Self and your Higher Source for guidance.
Sagittarius (November 22-December 21)
Sagittarius, today your connection with the Earth is your focus. A good day to explore gardening, or acquire a new plant for your home. Listen to the Mother Earth, she is speaking to you. Talk to the trees and know that they have messages for you today. This evening watch the moon rise.
Capricorn (December 22-January 19)
Capricorn, today is your power day. Embrace your inspirations, and be open to changes, particularly in the career sector. A good day to focus on career advancement and promotions. Watch for opportunities to travel today. Listen for the voice of your spirit guide today.
Aquarius (January 20-February 18)
Aquarius, a good day to move forward with your career aspirations. You are feeling uplifted and ready to accomplish the tasks before you today. Remember to pace yourself today and look to your Higher Power to keep things moving along. Watch for a financial blessing to come your way.
Pisces (February 19-March 20)
Pisces, psychic power is yours today! You are in-tune with your Higher Self and with the Spirit World. You may be surprised at how mediumistic you are today. Go with the flow, and let the Spirit guide you. Be present for those seeking spiritual guidance today.
ABOUT PSYCHIC BOB HICKMAN
Psychic Bob Hickman is long-time practicing psychic, and a well-known media personality. Over the past 20 years he has been featured in print media, as well as done appearances on various radio and television shows around the country.
He is a published author of several books on the paranormal, as well as a YouTube celebrity with over 10,000 views each month. You can see Psychic Bob's weekly psychic-themed videos at his YouTubeChannel at
SpiritChannel
.
If you would like to schedule Psychic Bob as a guest for your radio or TV show, please contact him at his office at
571-483-2112
.
Your can also visit him at his official website:
www.robert-hickman.com